Azure is an cloud computing service developed by Microsoft for building, testing, deploying, managing apps and services through Microsoft managed data centers. It provides three kinds of Services such as Saas, Paas and Iaas.
It has marked his fooprints across 55 regions and 140 countries worldwide. Azure is evolving stronger day by day. There's an huge competition going on between Azure and AWS. But it totally depends upon your requirements of choosing the right cloud provider.
In this blog, we will explore about five interesting Azure Services that you need to know.
#1 App Service
Azure App Service helps you to quickly build, deploy and scale Web Apps, Mobile Apps or API Apps created with popular frameworks such as .NET, .NET Core, Node.js, Java, PHP, Ruby or Python. It also provides you an fully managed paltform where you can monitor, manage, get operational insights of your apps etc., Logic Apps is one of the most powerful workflow which can be used to automate most of the stuffs.
It also increases the developer productivity with advanced capabilities such as continuous integration , live–site debugging, Visual Studio and Visual Studio Code IDE's. You can deploy your web apps from Visual Studio directly into Azure portal.
You don't have to worry about the down time of your website. There's an option available called Auto Scaling, where you can scale your website automatically if there is an downtime. And also portal provides you awesome diagnostics and monitoring integration.
#2 Function Apps
Functions Apps allows you to do event driven execution of HTTP, Queues, Database etc., Bascially function apps contains some functions which can be useful to do a simple job such as cleaning up the database or it can also manage complex operations.
Azure functions became more powerful with the help of Durable function concept. It allows you to execute two or more azure functions in a parallel mechanism.
#3 Azure Storage
Azure Storage allows you to to manage and scale at ease. It provides you different storage such as,
Blob – object and file storage via an HTTPS URL
Tables – noSQL key/value data
Queues – messages and work items
Files – share excessive amount of file shares
And also you don't have to worry about the database backup. There's an option available where it will be automatically replicated and it will backed up every day.
You can use geo replication if you want to replicated your data based upon the locations available.
#4 Cosmos DB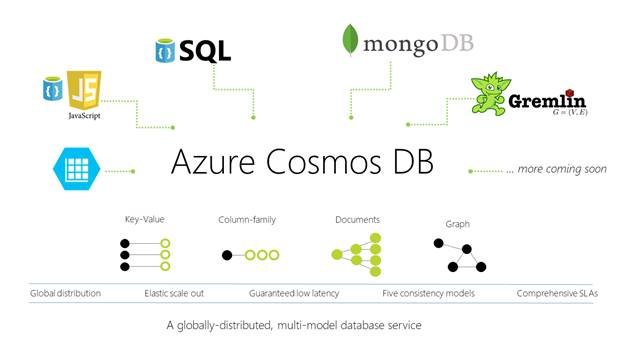 Azure Cosmos DB is Microsoft's globally distributed, multi model database service. It enables you to elastically and independently scale throughput and storage across any number of azure regions worldwide. Some of key benefits of using Azure Cosmos DB are,
Turnkey global distribution
Always on
Elastic scalability of throughput and storage
No schema or index management
Ubiquitous regional presence
Secure by default and enterprise ready
Significant TCO savings
Globally distributed operational analytics and AI
Using Azure portal you should be able to create Azure Cosmos DB at ease. You can manage Cosmos DB with Azure Cosmos DB extension available in Visual Studio Code. It uses Familiar API's and query languages such as,
SQL – schema-less with rich SQL querying capabilities.
Table – Key-value database service
MongoDB – use MongoDB libraries, drivers, and tools against Cosmos DB.
Gremlin – Managed, graph database, you can use Open Graph API.
#5 Application Insights
Application Insights provides you application performance management service for developers and DevOps professionals. It'll be very useful to monitor your azure applications. It will automatically detect performance anomalies, and includes powerful analytics tools that help you identify the issues.
It runs rich diagnostics across the data collected and it will provide you the most accurate results. It monitors the following metrics,
Request rates, response times, and failure rates
Dependency rates, response times, and failure rates
Exceptions
Page views and load performance
AJAX calls from web pages
User and session counts
Performance counters
Host diagnostics
Diagnostic trace logs
Custom events and metrics
Conclusion
These are some of the interesting azure service that you need to know. Basically there are lot of resources available which will be very helpful for your product. Explore and choose the right service at the right time.
In our next blog, we will see some detailed differences between Logic App and Microsoft Flow.
Happy Coding!
Cheers! 🙂